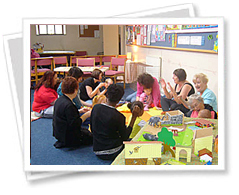 Toddler Time welcomes you!
Coedpenmaen's Toddler Time meets on Thursday mornings from 10.00am till 12.00pm. The group is run by a team of volunteers from the church.
There is no charge for the session as the church wants this facility to be a gift to the local community. Light refreshments are provided for parents and children. Our Toddler Group began in September 2008 and within weeks we were very busy. The ethos of the group is to encourage Mums (and Dads and Grandparents) to spend the time interacting with their children and sharing and supporting one another. The group is open to children of all ages from 0 to 3.
During the session children can enjoy floor and table activities. We have a lovely home corner, and a wide range of high quality toys. We love to provide opportunities for the children to explore unusual media by introducing such things as vegetables, ice, paint and simple cookery as part of our messy play corner. The session ends with a circle time where we share news, songs and together time.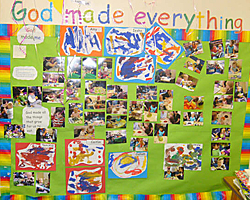 Our wall display is always changing to reflect all the lovely things we do and events we celebrate.
Coedpenmaen Toddler Time is fully booked at the moment.
We have to limit our numbers just because of space, but please
get in touch
if you would like to come, and we'll let you know if there's a space available or add you to the waiting list.